---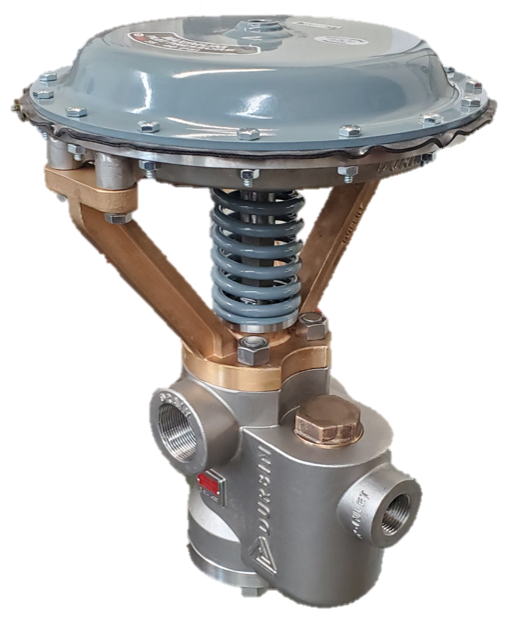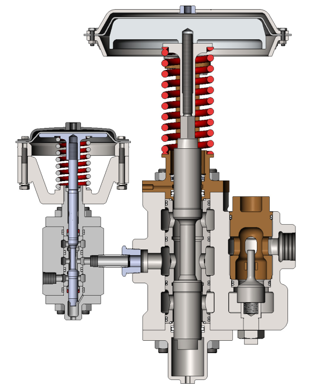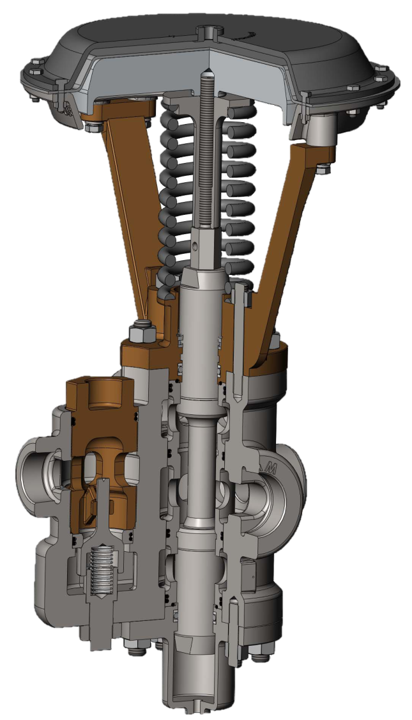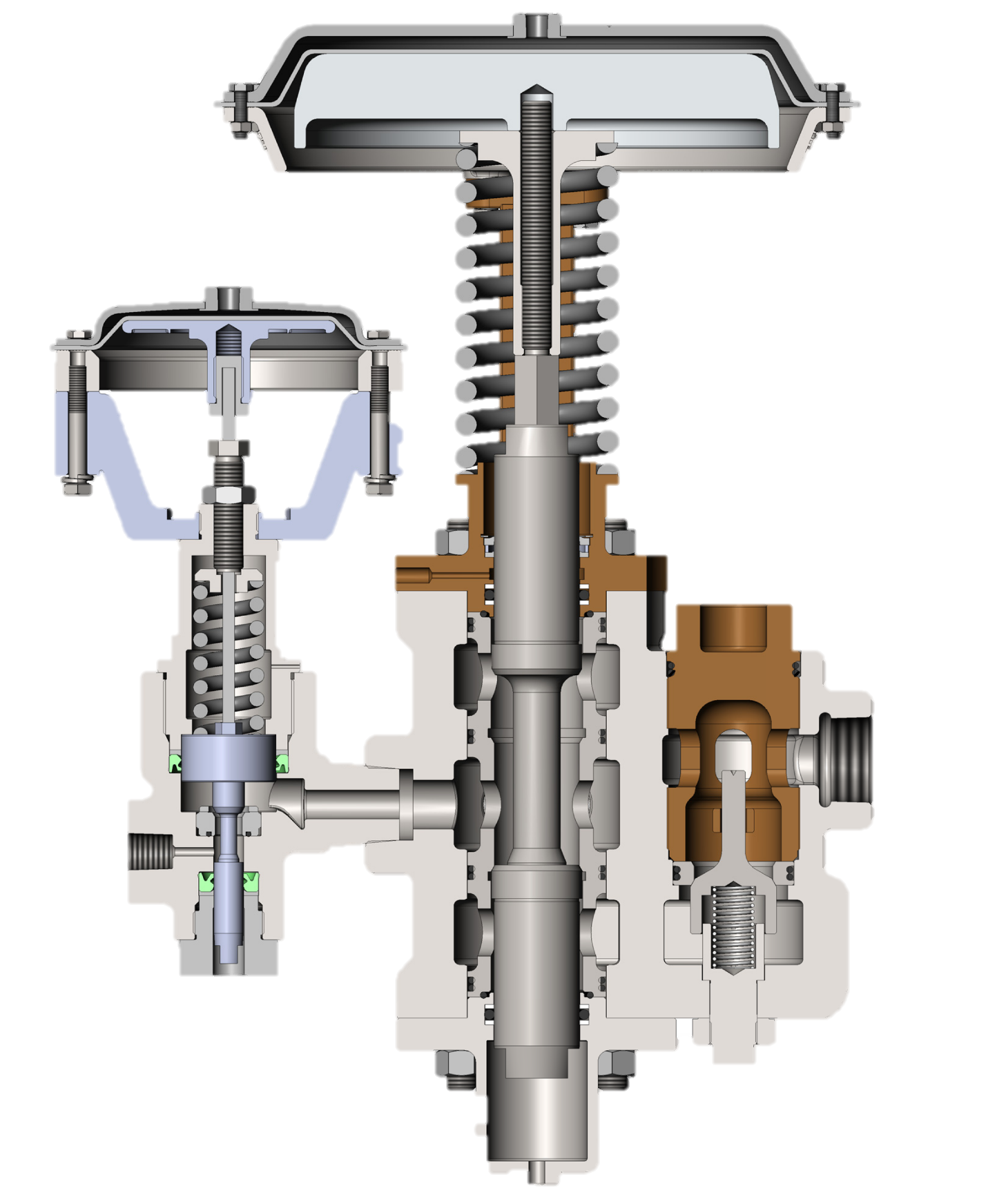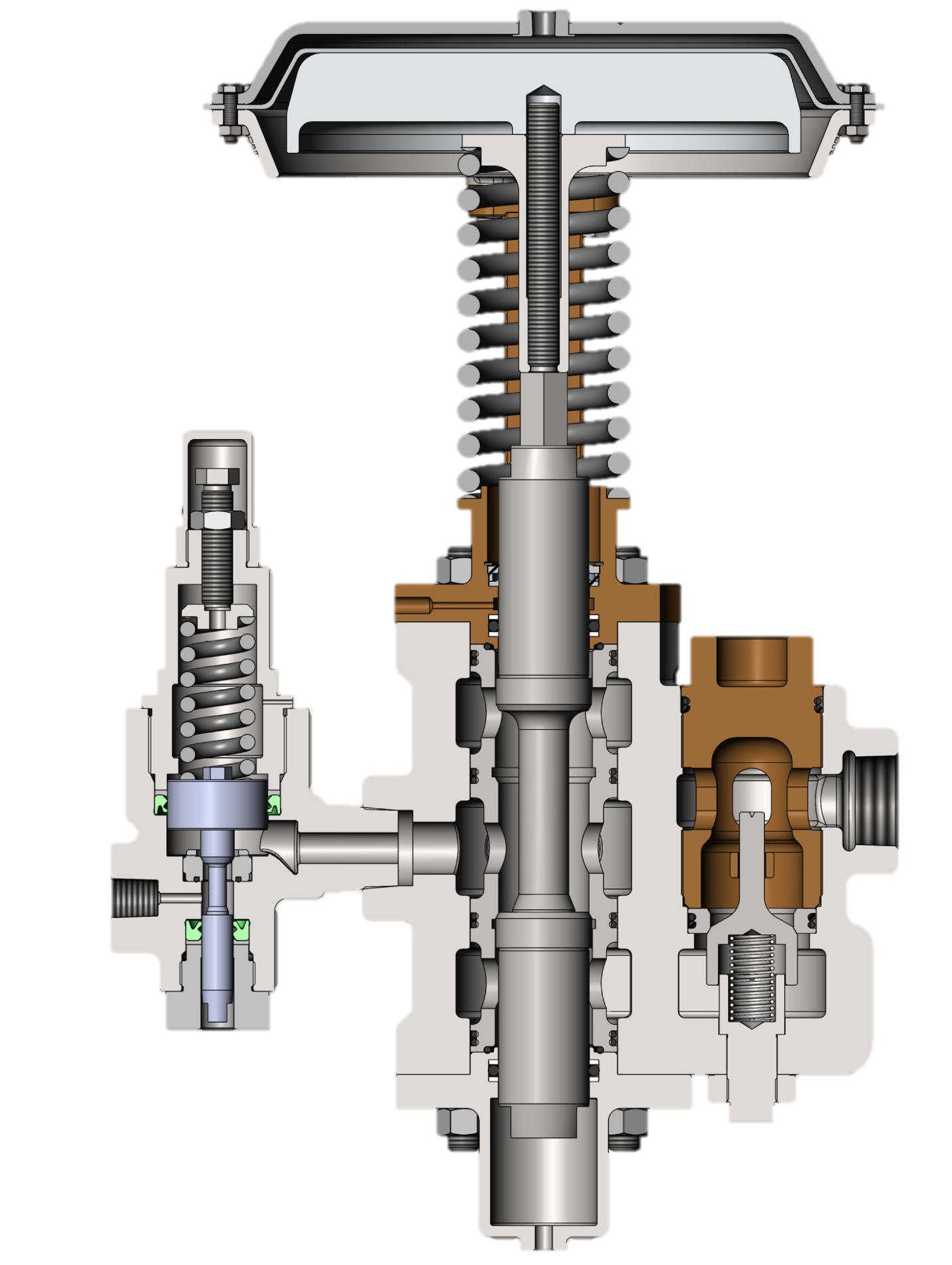 DIAPHRAGM KICKIN ON INLET CUTAWAY
Features:
Valve Type: Spool
Function: 2 pressure/ 3-way directional
Action: Normally Closed
Actuation: Pneumatic
Pilot Range: 35-40 psi (2.4-2.8 bar)
Sizes: 1"-1-1/2" (DN 25 to DN 50)
Pressure Ratings: Up to 4000 psi (276 bar)
Temperature Ratings: -20°F to 160°F (-26°C to 71°C)
Connection Style: Threaded (NPT/BSPT)
Seat Type: Hard Seat
Leakage Rate: ANSI/FCI 70-2 class VI
Cv: Maximum of 29.5 (see chart below)
Media: Hydraulic media/water
Overview: The Durbin two pressure hydraulic valve is used for press operations where a low pressure fluid and a high pressure fluid are utilized in a press/ram application. The valve is designed with an integrated low pressure check valve.
Materials of Construction: The Durbin 3-Way Two Pressure series is constructed of ASME pressure vessel stainless steel grade 300 series. The seat sleeve and stem components are machined from precipitation-hardenable material, giving this valve exceptional sealing ability over the life of the product. This tough and durable material can withstand the devastating effects caused by high velocity media flow through the flow channels.
Application: In many press operations, a low pressure fluid is used to close the ram. As the ram approaches the end of the travel, a higher pressure is required for the actual "press" process. Once the high pressure fluid is initiated the integrated low pressure check valve protects the low pressure line. High pressure inlet may be actuated by means of an automated kick in such as the Durbin D344-2000 series or a high pressure two way valve such as the Durbin D4800 series.
HIGH PRESSURE ACTUATION
USING PNEUMATIC 2-WAY N/C
DEPICTED WITH DURBIN D4821
HIGH PRESSURE ACTUATION
USING AUTOMATIC KICK-IN
DEPICTED WITH DURBIN D344-2001
HIGH PRESSURE ACTUATION
USING AUTOMATIC KICK-IN
W/ DIAPHRAGM ACTUATOR
DEPICTED WITH DURBIN D344-2002
Subscribe
Enter your email address to subscribe to this blog and receive notifications of new posts by email.
Copyright 2018 Durbin Industrial Valve, Inc
| | | | Header | Header |
| --- | --- | --- | --- | --- |
| | | Cell | Cell | Cell |
| | | Cell | Cell | Cell |
| | | Cell | Cell | Cell |
| | | Cell | Cell | Cell |